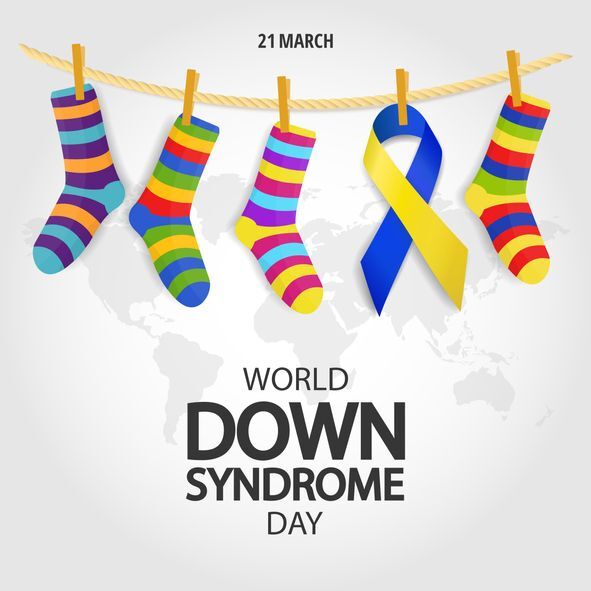 All of us here at DSALA are excited for World Down Syndrome Day on March 21, 2023. On March 21 of every year, the world-wide Down syndrome community is connected in our efforts to spread awareness of Down syndrome to all corners of the globe. The date of "March 21" was chosen because it is the 21st day of the 3rd month, which is symbolic to represent three sets of the 21st chromosome, known as trisomy. World Down Syndrome Day has been observed for many years and was officially designated as the date of observation by the United Nations in 2012.
This year's theme is With Us, Not For Us and DSALA proudly stands in solidarity. The Down syndrome community is letting the world know that they would like supporters to stand alongside them, not simply advocating on their behalf and ignoring their wants and needs. This message of self-advocacy is a powerful one. From the World Down Syndrome Day's website, the organization expands on this theme, "a human rights-based approach views people with disabilities as having the right to be treated fairly and have the same opportunities as everyone else, working WITH others to improve their lives." Here at DSALA, we fully endorse this notion and we see the need for it in our community here in Los Angeles.
Amongst the services that DSALA provides is aiding those in the medical field and other professions who work directly with individuals with Down syndrome. In solidarity with the World Down Syndrome Day's 2023 theme, we will be emphasizing this human rights approach and giving professionals the tools and guidance on how best to work one-on-one with individuals with Down Syndrome to meet their needs. After all, they understand their needs much more with their lived experiences more than anyone else. Testifying to this, the World Down Syndrome Day's website discusses how "people with Down Syndrome often have poor or controlling support. Often their supporters do things FOR them, not WITH them." We believe that we can bolster this incredible message by adding to our learning seminars and support groups this human rights-based approach. Helping families understand that individuals with Down Syndrome have the right to self-advocacy in their health, services, and needs, can lead to shifts in perspectives and greater understanding.
We truly wish to honor this year's theme and will support the Down syndrome community in Los Angeles with services and advocacy work by emphasizing and supporting their self-advocacy. We agree, it's time to shift the narrative and truly listen to individuals with Down syndrome to meet their wants and needs. We will keep our ears actively opened and survey those with Down syndrome to see what services, or expansion of services, that we can help provide. We want to help in anyway any individual with Down syndrome their rights to self-advocacy and well-being.
To support our efforts, as we rely predominantly on donations and fundraising events, please consider graciously donating to DSALA here. We are able to provide the services and support thanks to people like you.