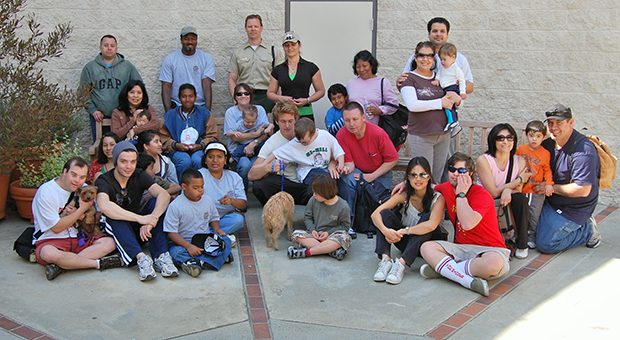 Saturday Seminar Series
The DSALA offers year round seminars on specific subjects at the DSALA office.
Be sure to RSVP as soon as you plan on attending. Space is limited.
All supplemental learning materials provider by the speakers will reinforce the learning that will occur in the workshop. At this time, the only way to receive comprehensive information about each topic is by attending the workshops. Presenters have sole discretion in determining what materials, if any, are permissible for distribution. These materials will be provided to attendees only.
DSALA Community Room
16461 Sherman Way, Suite 180
Van Nuys, Ca 91406
Past seminars have included topics such as:
• Independent Educational Assessments and the importance to your child with Down syndrome's education
• Reading Workshops
• Dental Issues in Children with Down syndrome
• Addressing challenging behavior in children with Down syndrome:
The use of applied behavior analysis for assessment and intervention
• Conservatorship
---
Financial Planning by Marc Shulman
Session cancelled!
Saturday, January 14, 2017
10:00am-12:00pm
DSALA Community Room
This presentation takes the family from the very first step of identifying all of the planning problems and helps them to address each one through a step-by-step process.
Please RSVP to info
---
The ABLE Act with Julie Eby-McKenzie
Saturday, November 19, 2016
10:00am-12:00pm
DSALA Community Room
The ABLE Act: How to save money and keep your benefits
The Achieving Better Life Experience Act, or ABLE Act, was signed into law by President Obama in 2014. ABLE amends the Internal Revenue Code, to allow eligible individuals with disabilities and their families to establish a tax-exempt savings account that allows disbursements of income tax-free funds for "qualified disability expenses," including education, transportation, housing, obtaining and maintaining employment, personal support services, acquisition of assistive technology and health and wellness.
Please RSVP to info
---
Past Presentations
---
Medical Issues Associated with Down Syndrome by Dr. Teda Arunrut
Saturday, September 24, 2016
10:00am-12:00pm
DSALA Community Room
Medical Issues Associated with Down Syndrome
Dr. Teda Arunrut is a pediatrician in the San Fernando Valley who enjoys working with kids and helping them grow and develop to their fullest potential.  She completed her medical training at the University of Illinois Urbana-Champaign and her residency at the University of California San Francisco Program in Fresno.  While living in Fresno, she worked with the Down Syndrome Association of Central California to provide support and health care education to families of children with Down syndrome.
This seminar will provide an overview of health maintenance guidelines for children with Down syndrome from birth to early adulthood.  It will summarize conditions that children with Down syndrome commonly experience.  She will go over recommendations for screening, diagnosis, and approaches to care.  The goal of the presentation will be to give families a general understanding of what they can do to help detect health conditions early and keep their children healthy. 
Please RSVP to info
---
Letter of Intent with Dana Young
Saturday, July 9, 2016
10:00am-11:00am in English; 11:00am-12:00pm in Spanish
DSALA Community Room
What is a Letter of Intent?
A Letter of Intent is a document that provides information to others should you no longer be able to care for your loved one with special needs. The goal is to memorialize your knowledge of those needs in order to guide future caregivers in providing the best possible care.
Writing a Letter of Intent can seem like an overwhelming task, but it doesn't have to be. Dana Young will give a step-by-step presentation that you can follow to create your own, personalized Letter of Intent.
Please RSVP to info
---
The Genetics of Down syndrome
Saturday, May 21, 2016
10am-12:00pm
DSALA Community Room
Presenter:
Julian A. Martinez-Agosto MD, PhD, FACMG, FAAP
Associate Professor
Department of Human Genetics
Division of Medical Genetics, Department of Pediatrics
David Geffen School of Medicine at UCLA
Julian A. Martinez-Agosto is a medical geneticist and developmental biologist who has served on the UCLA School of Medicine faculty since he joined the Division of Medical Genetics in the Department of Pediatrics in 2005. He became a Clinical Instructor and Chief Resident of the UCLA InterCampus Medical Genetics Program in 2005.
Dr. Martinez earned his B.S. in Biology and Spanish Literature at Yale University. He was a postdoctoral fellow in the laboratory of Utpal Banerjee at UCLA, where he worked on blood cell development in Drosophila.
Since July of 2007 Dr. Martinez was appointed Assistant Professor in the Department of Human Genetics. Dr. Martinez is a recipient of the Pediatric Department Outstanding Research Award, as well as the David W. Smith Pediatric Trainee Research Award of the Western Society for Pediatric Research, among other honors. Since becoming a member of the Division of Medical Genetics, he has maintained a clinical interest in genetic syndromes that lead to overgrowth, vascular malformations, and cancer predisposition. His laboratory research continues to focus on novel regulatory pathways in progenitor and stem cell maintenance.
Please RSVP to info
---
Apps for Early Learning with Karen Alfaro from TASK
Saturday,  April 23, 2016
10:00am-12:00pm
DSALA Community Room
What is  Apps for Early Learning?
This workshop will introduce and demonstrate iPad applications that help facilitate early learning for children with special needs. This will include preschool apps, early language and literacy, fine motor skills and much more. Join us for a fast paced fun filled workshop.
Please RSVP to info
---
The Pathway Program at UCLA Extension with Eric Latham
Saturday, August 15, 2015
10am-12:00pm

DSALA Community Room

What is the Pathway Program at UCLA?
Pathway at UCLA Extension is a two-year certificate program for students with intellectual and other developmental disabilities, offering a blend of educational, social, and vocational experiences, taught and supervised by experienced instructors sensitive to the individual needs of our students. On campus, Pathway students attend classes and participate with UCLA students in the many social, recreational, and cultural activities of a major university. We invite you and your family to learn more about Pathway at UCLA Extension, and discover the difference a quality higher education program can make.
Please RSVP to info 
---
Social Security Benefits Training
Saturday, July 18, 2015
10am -12pm
DSALA Community Room
Do you want to work but are afraid of losing your benefits?
  Let us help you to understand  Social Security rules when you return or attempt work. 
Social Security's calculation of income

9 month Trial Work Period (TWP)
Substantial Gainful Activity (SGA)
Work Incentives
Continuation of Medicare/Medi-Cal
Please RSVP to info 
---
Taft College & The Transition into Independent Living Program with Victoria Waugh
Saturday, May 2, 2015
10am-12pm

DSALA Community Room

What is Transition into Independent Living?
The Transition to Independent Living Program (TIL) is a post-secondary educational experience for adults having developmental/intellectual disabilities. The program provides instruction, training, and support on a community college campus. The program is comprehensive, with curriculum and training that promotes acquisition of the functional, social, and career skills necessary for students to live a productive and normalized lifestyle.

If you have a child who is about to exit high school, you might be interested in learning about this program.
Please RSVP to info
---
Vision Development Issues In Children with Down Syndrome by Dr. Gary L. Etting
Saturday, May 10, 2014
10am - 12pm

Gary L. Etting, OD, FCOVD, will discuss some of the common visual issues children with Down Syndrome experience, eg: crossed eyes, visual processing problems and developmental delays. He will provide some suggestions for activities, which help develop tracking and processing skills.
---
Watch Presentations
Down Syndrome Association of Los Angeles Saturday Seminars
Toilet Training
Dr. Paula Santos came to the Down Syndrome Association of Los Angeles to conduct a free seminar, on February 8, 2014, detailing helpful strategies in toilet training for individuals with cognitive delays.
Thyroid Disorders in Down Syndrome
On January 18, 2014, Dr. Norman Lavin conducted a free seminar at the Down Syndrome Association of Los Angeles (DSALA) on the endocrine system and how it relates to physical and cognitive development in individuals with Down syndrome.