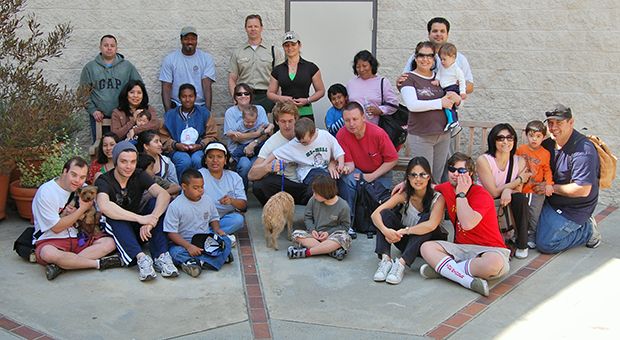 Saturday Seminar Series
The DSALA offers year-round seminars on specific subjects at the DSALA office.
Be sure to RSVP as soon as you plan on attending. Space is limited.
All supplemental learning materials provided by the speakers will reinforce the learning that will occur in the workshop. The only way to receive comprehensive information about each topic is by attending the workshops. Presenters have sole discretion in determining what materials, if any, are permissible for distribution. These materials will be provided to attendees only.
Past seminars have included topics such as:
• Independent Educational Assessments and the importance to your child with Down syndrome's education
• Reading Workshops
• Dental Issues in Children with Down syndrome
• Addressing challenging behavior in children with Down syndrome:
The use of applied behavior analysis for assessment and intervention
• Conservatorship
The information presented is for informative purposes only and does not constitute DSALA's endorsement of any agency or services our presenters offer. These workshops are provided as a courtesy to our DSALA families.
---
Reading Workshop
Zoom Saturday Seminar
Part 1: Saturday, September 23, 2023     RSVP
Time: 10 AM – 11:30 AM
Part 2: Saturday, October 14, 2023          RSVP
Time: 10 AM – 11:30 AM
Join us for two 90-minute presentations on the Whole Child Reading Method, giving you a quick-start guide to teaching reading to our learners of any age. Whether your learner is 4 or 40, there is a way to success that works most efficiently, and these two classes will focus on how to get there. Participants must attend both presentations, as they offer different information, and one builds on the other.
What you will learn:
- Understanding the basis of the Whole Child Reading method, which is "We go in through the heart and teach to the brain."
- Learning how to create those "heart" materials and using the ready-made Special Reads materials.
- Learning the strategies of "teaching to the brain" and correctly using hemisphere learning techniques has long proven effective for fast and permanent retention.
- Understanding the learning weakness and strengths of learners with Down syndrome and how to accommodate both.
- Understanding the phonics vs. whole words debate and learning which to use and when.
- Teaching to the dual diagnoses of DS/ASD (autism) and DS/CAS (apraxia) and more...
About the speaker
Natalie Hale is an award-winning author, an innovative educator, a parent of an adult son with Down syndrome, and for over 30 years, a national and international speaker on teaching reading to learners with Down syndrome and other developmental delays. Natalie lives in Los Angeles and continues to travel and teach parents and educators across the country and borders through her reading workshops in person and online.
Sample of her list of books:
- Whole Child Reading: A Quick-Start Guide to Teaching Learners with Down Syndrome and Other Developmental Delays
- Down Syndrome Parenting 101: Must-Have Advice for Making Your Life Easier (Best Special Needs Parenting Book 2012 About.com Reader's Choice Award);
- Managing My Money: Banking and Budgeting Basics (Finalist in the USA "Best Books 2011" Awards).
- Oh, Brother! Growing Up with a Special Needs Sibling was published by the American Psychological Association.
---
Regional Services: What You Need To Know
Date: Saturday, November 18th
Time: 10 AM – 11 AM
RSVP
Topics: Regional Center Services: Many services are available to Californians with developmental disabilities at each stage of their lives. 
Learn more about:
-             Common services for each age group
-             Appeal process
-             Self-determination program (Ages 3+)
-             NEW - Coordinated family support service (Ages 18+)
-             Electronic Visit Verification (EVV)
Presenters:
Maria De Jesus Rodriguez has worked at the North Los Angeles County Regional Center for five years as an Early Start Service Coordinator and currently as the Parent & Family Support Specialist.
Raphael Muñoz has been a service coordinator at NLACRC in the adult and transition units since 2016. Before joining NLACRC, he served the East Los Angeles Region catchment by providing Early Intervention, Adaptive Skills, and Behavioral Therapy services. Raphael also worked as a Family Advocate in the Head Start program, assisting families from diverse backgrounds.
---
Past Saturday Seminars
---
Special Education Fall Update
Zoom Saturday Seminar

Saturday, August 26, 2023
10:00 AM – 11 AM

RSVP
This presentation will address IEPs, assessments, and the latest special education issues post-COVID-19.
About the presenter
Dina Kaplan, Attorney with Vanaman German, LLP has been practicing law for more than 40 years. She has an extensive litigation background and has been protecting the rights of children with disabilities for the past 25 years. She represents families in Due Process matters against school districts as well as in Regional Center and Adoption Assistance Program (AAP) matters. Dina is proud to be a member of the incredible legal team at Vanaman German LLP.
Dina is a frequent speaker at legal conferences, seminars, and parent groups. She is also the Executive Director of The K.E.N. Project, a non-profit organization that provides parent support and education for parents of children with disabilities.
Dina is also the mother of Brandon, a young adult with multiple physical and developmental disabilities. Brandon has taught her a love she never knew existed! Brandon has also taught her not only the challenges and frustrations that accompany raising a child with special needs but also the incredible joy and rewards that come with each accomplishment and milestone. Brandon continues to inspire Dina to be an outstanding advocate for children with special needs.
---
New Developments in Managing Stress and Self-Care
Zoom Saturday Seminar

Saturday, July 15th, 2023
10:00 AM - 11:00 AM
This presentation will address new developments in the science behind stress, stress management, and the mind-body connection. How prolonged and chronic stress impacts both mental and physical health will be discussed. Additionally, strategies involving simple cognitive and behavioral shifts to interrupt and stop the stress response will be explored.
About the Presenter:
Deborah Buttitta, Psy.D., LMFT, is an Assistant Professor in the marriage and family therapy program at California State University, Northridge (CSUN). She has over 25 years of experience educating, training, and supervising in the field of marriage and family therapy. She is also a licensed marriage and family therapist and has been in clinical practice for over 25 years, supporting individuals, couples, and families with various mental health and stage-of-life issues. Dr. Buttitta collaborates with multiple partners within the CSUN community, including, the Teaching Learning and Counseling Consortium, Strength United, Family Focus Resource Center, Mitchell Family Counseling Center, and Project Rebound.
---
Social and Life Skills Apps
Zoom Saturday Seminar

Saturday, June 17, 2023
10:00 AM – 11 AM

RSVP
Many kids and adults with disabilities struggle with social and life skills.
Join this session, in which we will demonstrate apps that can help with these skills. These apps focus on personal grooming, household chores, telling time, dialing 911, social skills, and more. Apps for various ages will be shown.
TASK is a nonprofit organization that helps families navigate:
- Disability services
- Special education
- Assistive technology
---
Speech & Language Difficulties in Individuals with DS
Zoom Saturday Seminar
Saturday, April 15, 2023
10:00 am - 11:00 am
RSVP
This presentation will cover:
Specific speech and language difficulties that are commonly seen in individuals with Down syndrome
The importance of early intervention
Strategies for parents/caregivers to communicate effectively at home
About the presenter
Samira Khiantani, M.S., CCC-SLP is a licensed Speech-Language Pathologist who works with a variety of individuals with speech and language difficulties including the Down syndrome population. She is a knowledgeable and passionate resource dedicated to her field. She also mentors graduate students in a clinical setting, preparing the future generation of SLPs.
---
Alternatives to Conservatorship, Reform Bill 1663, & Supported Decision Making
Zoom Saturday Seminar

Saturday, March 25, 2023
10:00 am11:00 am
RSVP

- Understand options that are available instead of a conservatorship and how a person can use supported decision-making to make decisions that are right for individuals with developmental disabilities.
- Learn about the protections and opportunities AB 1663 provides for people to have more control over their lives while ensuring conservatorships are available to those who need them.
Speaker
Sofia Cervantes
State Council on Developmental Disabilities Advocate
The State Council on Developmental Disabilities (SCDD) Vision
The Council advocate, promote, and implement policies and practices that achieve self-determination, independence, productivity, and inclusion in all aspects of community life for Californians with developmental disabilities and their families.
---
Special Needs Planning
Zoom Saturday Seminar
Saturday, February 18, 2023
10:00 am11:00 am
RSVP
This workshop is designed to provide families and professionals with confidence and clarity around planning for the future of a child or loved one with special needs.
Special Needs Planning:
-Why Plan?
-Nick's Personal Experience
-ABLE Accounts
-Special Needs Trusts
-Financial Strategies
-Open Q & A
About the presenter
Nick Wallace, ChSNC, RICP is a financial advisor specializing in helping families across the United States plan for their loved one's future with special needs. Nick is on a mission to create more secure outcomes for individuals with disabilities. Nick serves as co-guardian and future trustee for his brother, Aaron, who has physical and intellectual disabilities.
---
Dental Issues & Down Syndrome
Zoom Saturday Seminar
Saturday, January 21, 2023
10:00 am - 11:00 am
RVSP
Dental Issues & Down Syndrome
Individuals with Down syndrome have the same oral health problems as others. However, some issues tend to be frequent and severe. Early professional treatment and daily care at home can reduce the severity and allow people with Down syndrome to enjoy a healthy mouth.

Topics
Dental hygiene for individuals with Down syndrome
The importance of periodic exams
Treatment options

About our speaker
Dr. Bob Valdez attended dental school at the Universidad Autonoma de Guadalajara. He worked in a Post-graduate Pediatric Residency at the University of Southern California, earning his certificate in Pediatric Dentistry in 1985. He established his dental clinic in the Uptown Whittier District in 2008. In addition to pediatric dentistry services, he specializes in treating special needs children.
 
---
LIVING OPTIONS FOR INDIVIDUALS WITH INTELLECTUAL OR DEVELOPMENTAL DISABILITIES
Zoom Saturday Seminars
Saturday, October 15, 2022
10 AM
RSVP
Community Options Integrated Services (COIS) will discuss living options for those with intellectual or developmental disabilities. COIS provides the most comprehensive information for those interested in learning more about creative residential support options. This presentation will provide a clear and concise overview of the varied living arrangements available.
about COIS
Community Options is a family home agency that recruits and trains families wishing to share their homes with individuals needing extra support. They offer more of a person-centered program than a typical group home placement.

about our speakers
Ingrid Rushing is the founder and CEO of Community Options Integrated Services, which has pioneered the development of adult family home services in California. Prior to founding Community Options, Ingrid worked for two Southern California Regional Centers and was instrumental in developing solutions for advanced situational projects and creative resource development. Ingrid has also served on the Vendor Advisory Committee and the Strategic Planning Committee for the North LA County Regional Center. For her efforts, she was recognized with the Jenny Ratzinger award. 

Timothy Lisagor has extensive experience working in the foster care system, ensuring quality care and placements. He was responsible for recruiting families and for monitoring their continued support of those served. Timothy has also worked as an employment developer identifying internships, volunteer positions, and employment for those served by the California Regional Center system. 
---
Neurological Complications in Down syndrome
Zoom Saturday Seminars
Saturday, September 10, 2022 
10 AM
RSVP 

Neurological Complications in Down syndrome: How to Identify and Protect
-  Review common neurological complications in Down syndrome
-  Review the most common stroke-related conditions that persons with Down syndrome exhibit with Moyamoya Disease and Cerebral Amyloid Angiopathy (CAA).
-  Review the common signs and symptoms of Moyamoya disease and CAA, how to get diagnosed and what treatments can be used.
-  Review a potential, non-invasive method to predict stroke before it happens

Early Identification can save lives!

About Jonathan D. Santoro, MD
Dr. Santoro serves as the Director of the Neuroimmunology and Demyelinating Disorders Program at Children's Hospital Los Angeles. He is also an Assistant Professor of Neurology at the Keck School of Medicine at the University of Southern California. Dr. Santoro completed his undergraduate, master's, and medical degrees at Tulane University. He subsequently completed pediatric and child neurology residencies at Stanford University School of Medicine with sub-specialty training in neuroimmunology and pediatric multiple sclerosis at Harvard Medical School. Dr. Santoro has clinical research expertise in inflammation related to cerebrovascular disease and neurocognitive disorders such as Down syndrome regression syndrome.
---
Down syndrome and Alzheimer's Disease
Zoom Saturday Seminar

Saturday, July 16, 2022
10 am
RSVP

Eric Doran will be answering questions about the connections between Down Syndrome and Alzheimer's disease.
about Eric Doran
Eric Doran, MS, serves as manager for the UCI Down Syndrome Program, directed by Ira Lott, MD, professor emeritus of pediatrics and neurology. Mr. Doran holds a master's degree in genetic counseling. He has extensive clinical and research experience working with people with Down syndrome and their family members for the past two decades. He has published numerous important research findings on the link between Down syndrome and Alzheimer's disease.
about Sharon Trocki-Miller
Sharon Trocki-Miller is a Family Advocate. She spent five years on the State Alzheimer's Advisory Committee, advocating for people with disabilities. She ran a family support group for ten years at a program for adults with disabilities in North Hollywood. Along with an Alzheimer's Disease (AD) and Down's Syndrome (DS) support group for Alzheimer's LA. That group ran for five years and was cut short due to Covid. She recently started a new AD/DS support group with Alzheimer's LA that meets on the first and third Wednesday of each month. She is extremely grateful that she had the opportunity to be her sister's caregiver until she passed away from Alzheimer's. 
---
Down Syndrome in Media
Zoom Saturday Seminars
Saturday, June 18, 2022
10 AM
RSVP
Did your child with Down syndrome come with the "entertainment gene" on their extra chromosome? 

Would you like to know more about print work, commercials, TV, and film opportunities for children and adults with Down syndrome and other disabilities?  Gail Williamson, a talent agent at KMR in North Hollywood for the past 9 years and previous Executive Director of the DSALA, will come and share what's happening with disability inclusion and authenticity in the media.  Get all your questions answered about the industry and decide if it's something you and your child would be interested in.  Parents of children with other disabilities are welcome too.
---
Special Needs Trusts
Zoom Saturday Seminar

Saturday, May 21, 2022
10 am
RSVP
Special needs trusts are designed to enhance the quality of life of a person with a disability by maximizing their resources. It preserves eligibility for Supplementary Security Income (SSI) and Medicaid (which pay for food, shelter, and medical care). The special needs trust can then pay for all other things that make life better.
Presenter
Jonathan Leventhal, Professor of Law, California Attorney at Law, helps families plan for the future. He evaluates each situation and recommends the best options for each circumstance.  Jonathan Leventhal is also a Professor of Law at the University of West Los Angeles School of law.  He teaches Wills, Trusts & Estates to an eager group of Law Students in Los Angeles. 
---
Join Us in Conversation
with the Massachusetts General Hospital Down Syndrome Research Team to talk about the experiences that Spanish Speaking caregivers and African American/Black caregivers encounter when accessing care for their loved one with Down syndrome. Albert Pless, Jr., M.S., will lead the discussion and share insights learned from parents and doctors.
Saturday, April 16, 2022, via Zoom
10 AM
RSVP
This Virtual Event Includes:
-    Open space to share your experiences and brainstorm how local leaders can help
-    Cookie decorating for all family members to enjoy; cookies and decorations sent to your home prior to event. (RSVP deadline is April 9)
-    A free code to use at DSC2U, an online personalized care plan for your child.

***********************************************************************
Únete a la conversación con el equipo de investigación del síndrome de Down del Hospital General de Massachusetts para hablar sobre las experiencias que enfrentan las personas de habla hispana encargadas del cuidado de un ser querido con síndrome de Down cuando acceden y reciben atención médica. Albert Pless, Jr., M.S., dirigirá la discusión y compartirá las experiencias de otros padres y médicos de todo el país.
Este evento virtual incluye:
-          Espacio abierto para compartir sus experiencias y aportar ideas sobre cómo los líderes locales pueden ayudar.
-          Decoración de galletas para toda la familia! Las galletas y decoraciones serán enviadas a su hogar antes del evento.
-          Un CÓDIGO gratuito para usar DSC2U, un plan de cuidado personalizado en línea para su hijo/a.

SABADO, 16 DE ABRIL A LAS 10AM
RSVP
---
Limited Conservatorship
Zoom Saturday Seminars
Saturday, March 26, 2022
10 AM
RSVP
 
Your child is turning 18 and becoming an adult, what you need to know to help them live their best lives

There are several types of conservatorships. One special type of conservatorship is called limited conservatorship. This is when a judge appoints a responsible person (called a conservator) to assist an adult with developmental disabilities (called a conservatee) who is unable to provide for her/his personal and/or financial needs.
Bet Tzedek Legal Services will present an informational workshop on what a conservatorship is and the steps to get one for your loved one with disabilities. 
---
Social Security and Supplemental Security Income
Zoom Saturday Seminars
Saturday, February 19, 2022
10 AM
RSVP
The Social Security and Supplemental Security Income disability programs are the largest of several Federal programs that provide assistance to people with disabilities. 
The Office of Clients' Rights Advocacy will present an informational workshop on Supplemental Security Income (SSI). This presentation will provide information about what SSI is, who is eligible for it, and how the appeal process works should your SSI application be denied.
---
IN-HOME SUPPORTIVE SERVICES (IHSS)
Zoom Saturday Seminar
Saturday, January 15, 2022
10 AM
RSVP

In-Home Supportive Services, also known as IHSS, can help pay for services if you're a low-income elderly, blind or disabled individual, including children, so that you can remain safely in your own home. IHSS is considered an alternative to out-of-home care, such as nursing homes or board and care facilities.

The Office of Clients' Rights Advocacy will present an informational workshop on In-Home Supportive Services (IHSS). This presentation will provide information about who is eligible for IHSS, the kinds of services that IHSS offers, including Protective Supervision, and the process for appealing an IHSS decision when you disagree.