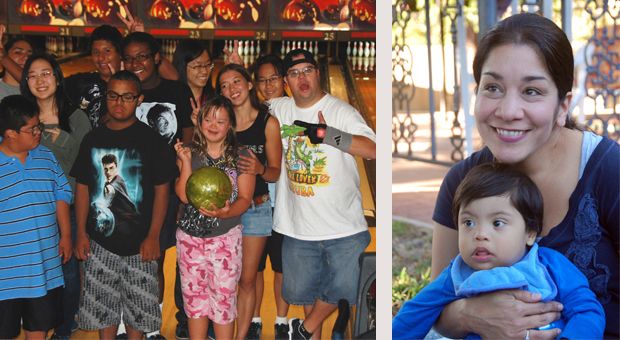 Family Support Network
Parent Support Groups are formal group meetings regularly scheduled throughout Greater Los Angeles that bring family members together to share information, resources and inspiration. Speakers on topics of interest often contribute to meetings.
Parent Support Group notices are sent via email. Members may attend any meeting and may request to be on several Support Group email lists in order to choose a meeting topic and guest speaker that would interest you.
Sign up to be added to the Support Group email lists of your choice.
Check out a Support Group in your area.
---
Amor y Fortaleza - Los Angeles

Support group for Spanish speaking parents of children with Down syndrome.
Meetings are held every third Wednesday of each month at 7:00pm

Grupo de apoyo para padres de niños con síndrome de Down.
Las reuniones se llevarán a cabo cada tercer miércoles de cada mes a las 7:00pm

Salvation Army
Red shield
1532 West 11th Street
Los Angeles, CA 90015

Visit our Calendar of Events.
_______________________________________________________________________________________________________________

Cultivar y Crecer

Grupo de apoyo para padres de niños con necesidades especiales.
Las reuniones se llevarán a cabo cada cuarto viernes de cada mes a las 6:30pm

Support group for Spanish speaking parents of children with special needs.
Meetings are usually held once a month on Fridays at 6:30 pm unless noted

NLACRC
Salón de Conferencia
9200 Oakdale Ave
Chatsworth, CA 91311

Visit our Calendar of Events.
_______________________________________________________________________________________________________________

Downright Blessed!

Parent Support Group for families of children with Down syndrome.
Meetings are held every first Wednesday of each month at 6:30pm
Contact Irene at 562-607-2100

Knights of Columbus
11231 Rives Ave
Downey, CA 90241

Visit our Calendar of Events.

Areas Covered: Downtown Los Angeles,Downey, Paramount, Bellflower, South Gate, Lynwood, and Norwalk
_______________________________________________________________________________________________________________