DSALA Moms need Moms Cruise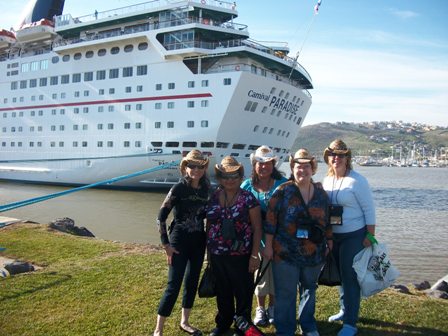 The Down Syndrome Association of Los Angeles Presents...
The 10th Annual Moms need Moms Cruise
Jan 25th- Jan 28th 2019
Aboard the Carnival Inspiration
(From Long Beach, CA to Ensenada, Mexico)
Don't miss the FUN aboard the Carnival Inspiration... You truly deserve this experience!
We're planning even MORE fun Opportunities to "get-to-gether" as a group in 2019 as we celebrate 10 years of sailing! 
Raffles, Games & Prizes!! 

Inside cabin per person (includes all taxes):
4C category at $304.08 per person
4D category at 314.08 per person
Ocean view per person (includes all taxes):
OV 6B category at $334.08 per person 
OV 6C category at $349.08 per person
OV 6D category at $369.08 per person
OV 6E category at $379.08 per person
Based on double occupancy (triple and quad cabins can be requested at lower rates)

Space is limited in each category so if one is sold out the other will be offered.
Please contact Erika Villanueva (Travel agent) at 480-293-4689 or erika@viajestogo.com to book your trip, make a payment and answer any Cruise Logistic questions.  Sylvia Griffin is very excited to be your DSALA Cruise Liaison for the 2019 DSALA MOMS Cruise. Have any with questions about on-board activities or comments "to kick it up another notch"? Please contact Sylvia at sylvia@dsala.org

Down Syndrome Association of Los Angeles
16461 Sherman Way, Suite 180; Van Nuys, Ca 91406
Tel. 818-786-0001 Fax. 818-786-0004
Info@dsala.org