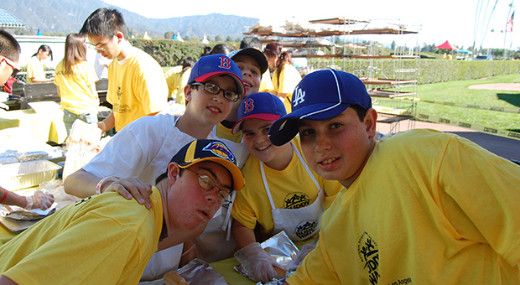 Thank you so much for your interest in volunteering at the Down Syndrome Association of Los Angeles (DSALA). In order to provide our families with the best possible experience, we may require our volunteers to go through an interview and background check before becoming an active volunteer at DSALA. All volunteers must be at least 16 years of age (some volunteer opportunities require individuals to be 18 years old).  
Buddy Walk Volunteer Opportunities
We are looking for volunteers for our 27th Annual DSA Los Angeles Buddy Walk on Saturday, October 9, 2021.  Each year, about 100 volunteers help make this event possible by helping with registration and check-in, games booths, cheering squad, set up and break down, guiding traffic, and much more. Positions are great for groups, but individuals and families can help too. Various times and positions are available from 6:00 AM- 4:00 PM. Shifts are 4 hours, but you're welcome to stay with us all day. 
To begin the volunteer process, please fill out and submit the Buddy Walk Volunteer Form. In addition, volunteers must submit a signed waiver to the volunteer coordinator prior to the day of the event. Volunteers under the age of 18 must have a waiver signed by their parents/legal guardian in order to participate.