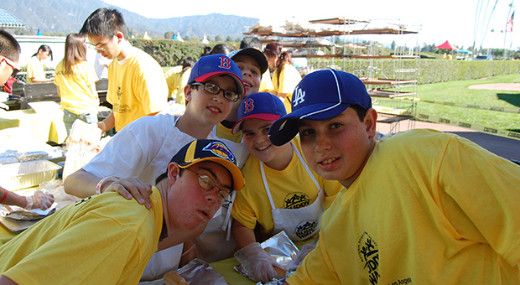 Thank you so much for your interest in volunteering at the Down Syndrome Association of Los Angeles (DSALA). To provide our families with the best possible experience, we may require our volunteers to go through an interview and background check before becoming an active volunteer at DSALA. All volunteers must be at least 16 years of age (some volunteer opportunities require individuals to be 18 years old).  
---
T21 Walk Volunteer Opportunities

Join us in the 29th Annual T21 Walk on Sunday, November 12, 2023. 
The event will take place on the beautiful grounds of Santa Anita Racetrack in Arcadia. 
Down Syndrome Awareness Walks are held across the United States. We are looking for volunteers with a great attitude in the Los Angeles area. 
All community members 16 years of age or older are welcome.
Each year, about 100 volunteers, like you, help make this event possible by helping with registration and check-in, games booths, cheering squad, set up and break down, guiding traffic, and much more.
- Positions are great for groups, but individuals and families can help too.
- Various times and positions are available from 10:30 AM- 5:00 PM.
- Shifts are 4 hours, but you're welcome to stay with us all day.