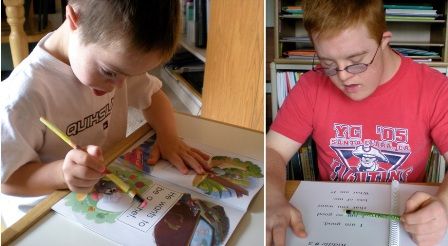 One-on-one tutoring sessions with Reading Specialist Natalie Hale
Literacy is a basic need for our kids; it's intrinsic to an independent life and a quality life, and Natalie believes that it is absolutely never too late to learn.
Natalie is now adding "Handwriting Without Tears" program to her Reading Sessions. There are a few openings available for reading lessons on Thursday afternoons. She welcomes students from age 4 and up.
Tutoring sessions are held at NEW LOCATION: 1421 N Catalina St., Hollywood, CA 90027
Please contact Natalie to register your child/teen/adult at specialreads@yahoo.com or by phone at (408)438-3268.
DSALA wishes to provide a pleasant experience for all participants. Therefore, a parent or guardian must be present for the duration of each activity.
---
Biography Natalie Hale
Natalie Hale is an award-winning author, an innovative educator, parent of an adult son with Down syndrome, and for over 20 years, a national and international speaker on the topic of "Teaching Reading To Learners With Down Syndrome" and other developmental delays.
Her published books are: Whole Child Reading: A Quick-Start Guide to Teaching Learners with Down Syndrome and Other Developmental Delays; Down Syndrome Parenting 101: Must-Have Advice for Making Your Life Easier, (Winner of Best Special Needs Parenting Book 2012), and Managing My Money: Banking and Budgeting Basics. She is also the author of the book, Oh, Brother! Growing Up With A Special Needs Sibling.
In 2000, she designed the Special Reads Reading Program specifically for learners with Down syndrome (www.specialreads.com). With the firm belief that "it's never too late," Natalie accepts students of all ages and abilities.