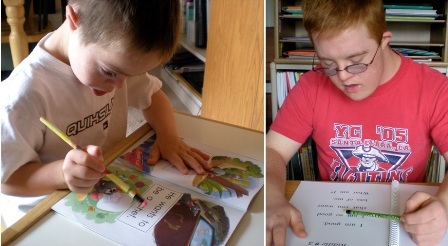 One-on-one tutoring sessions with Reading Specialist Natalie Hale
Literacy is a basic need for our kids; it's intrinsic to an independent life and a quality life, and Natalie believes that it is absolutely never too late to learn. She welcomes students from age 4 on up.
Tutoring sessions are held at the DSALA,
16461 Sherman Way Suite 180, Van Nuys CA 91406.
Please contact Natalie at specialreads@yahoo.com, or call her at 408.438.3268 to register your child/teen/adult.
DSALA wishes to provide a pleasant experience for all participants. Therefore, a parent or guardian must be present for the duration of each activity.
---
Biography
Natalie Hale
Author of 5 books, Natalie Hale is a native of New Orleans who gladly traded hurricanes for earthquakes by moving to sunny California. In addition to being a speaker, educator, and reading consultant specializing in Down syndrome, she is the mother of Rebecca, who has red hair, and Jonathan, who has Down syndrome, ADHD, and Oppositional Defiant Disorder. Natalie Natalie developed her own line of early reading materials for children with Down syndrome, Autism, and other special needs, which you can find at www.specialreads.com.