Ceramics Class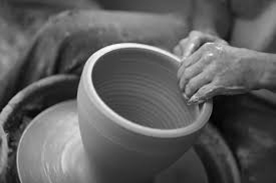 This class will introduce students to building with clay. Students will learn to use tools to detail their art pieces. They will learn techniques to make various bowls, cups, and pots. Various glaze and decoration techniques for finishing work will be introduced to express their imagination and creativity.
The students will:
•        Learn the fundamental techniques of clay sculpture.
•        Experiment with different glazes.
•        Improve their visualization skills and manual dexterity.
•        Work in an environment which encourages creativity and self-expression

Friday, April 6- June 15
5/25 - no class
4:00pm - 5:30pm

DSALA Community Room: 16461 Sherman Way, Suite 180; Van Nuys, Ca  91406
Class BreakDown:
Each class will be 1.5 hours and will include a brief tutorial followed by an exercise.

WEEK 1 : Intro
-Manipulating clay
-Tools
-Slip & Scoring (How to attach pieces of clay
-Pinch pot exercise
WEEK 2: Initials
–A fun project where students can carve out their own initials in 2D to mount on the wall or in 3D to display on their desk.
WEEK 3,4,&5: Coiling and Detailing
–Coiling is a technique used to make bowls, cups and pots on a larger scale, with more control of shape and form. Students will use slip & scoring to layer circular coils. After the last coil is added and the pot/bowl is sturdy, students will be able to add their own designs and details to the exterior of the piece.
WEEK 6: Glazing
–Once all the pieces from the previous weeks have completely dried and been fired, students will begin to experiment with glazes. They will be able to choose from a variety of glazes and apply them to their pieces.
WEEK 7: Fun in the Kitchen and Class Mosaic
–Students will get creative and design their own trivets and coasters.
-Each student will create their own tiles with unique shapes and sizes. Once all the pieces are completed, they will be assembled into a class mosaic.
WEEK 8: Abstract Shapes
–Students will be given the freedom to produce abstract ceramic pieces, using their imagination and expressing their creativity.
WEEK 9: Final Glazing
WEEK 10: Art Exhibit! - Location TBA
–10 weeks, after a 9 week program the students and their selected works will be displayed in an art show .
This class is for individuals ages 18 and older. 
Fee: $75 non-refundable, non-transferable fee due by Wednesday March 20, 2018 .
Register Now
DSALA wishes to provide a pleasant experience for all participants. Therefore, a parent or guardian must be present for the duration of each activity. For more information about this program contact info