Teen/Young Adult Social Club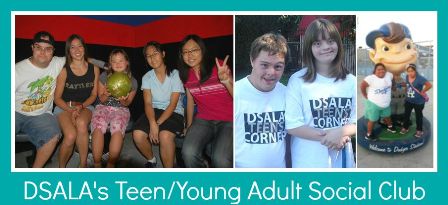 Teen/Young Adult Social Club
Join us the 4th Saturday of every month for an opportunity to interact with other teens/young adults, form friendships, and partake in social outings in the community. These events are for individuals ages 18+. Participants must be accompanied by an adult and meet the group at destination.
DSALA wishes to provide a pleasant experience for all participants. Therefore, a parent or guardian must be present for the duration of each activity..
Miniature Golf
Join us for miniature golfing-$4.50 per player. Please bring exact change. No outside food allowed. Please arrive by 2:45 PM in front of the castle to join the group.
Unase a nosotros para un juego de golf miniatura- $4.50 por jugador. Por favor traiga cambio exacto. Comida de afuera no es permitida. Por favor llege a las 2:45pm en frente el castillo para unirse al grupo.